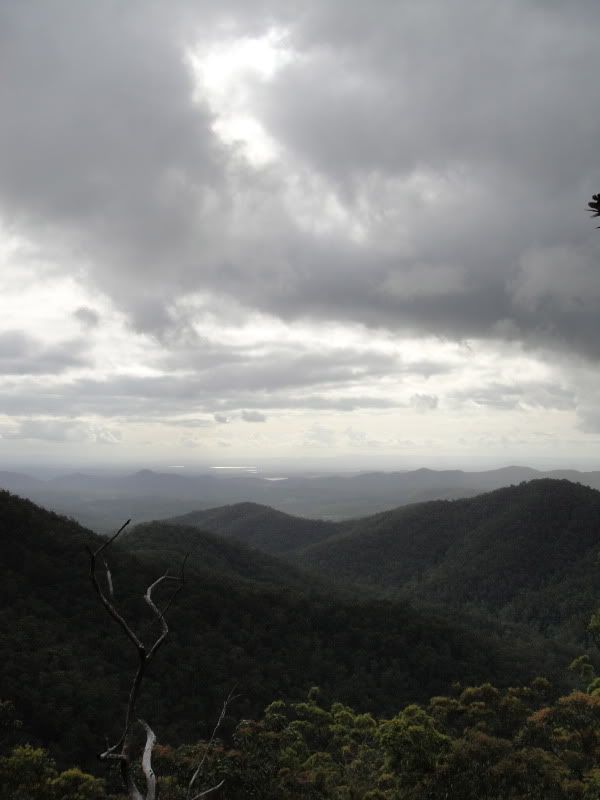 What do most people do after a 13hr flight from LA to Brisbane?

Most would want to relax and probably stretch their legs. Unfortunately that wasn't an option for a friend of Justin. We picked her up from the airport then drove up a mountain, nothing like trading a seat on a plane for a seat in a rental car!


Yesterday we drove through what is referred to as the "Mountains to Mangroves" corridor, which is a protected area just north of Brisbane that stretches from the Boondall Wetlands on the coast all the way up to the mountains that are due west of Brisbane. The name characterises the journey that water takes from the rainforest in the mountains all the way down to the wetlands. The corridor was established to protect local plants and animals that depend on this water.
The drive was amazing; very steep twisted roads that snaked through different national and state parks. We had a few chances to stop and take in some great views at outlooks set up along the way. In just over an hour we drove from sea level at Boondall to over 900m at the summit of Mt Glorious. Along the way we drove through the heart of Brisbane, rainforests and some very sketchy mountain roads.
Our rental car performed very well for what we asked of it. We did have a couple of nervous moments in the mud, and some laughs trying to get up the most steep section after making the mistake of stopping for a picture. Coming down the mountain was equally interesting, the locals know the roads very well and made me feel like a senior behind the wheel. I don't think I'll ever forget the elderly lady passing us on our way down from Mt Nebo, I've never seen a Hyundai move like that before. It is also the first time I have openly admitted that a speed limit was too high for a road. We were doing 70km/hr in an 80km/hr zone and it was waaaaaay too fast. Blind corners and cliffs + high speed limits = adrenalin rush in any car.
It was a spur of the moment decision to make this trip, and it paid off nicely with amazing views and one of the few chances I'll ever get to drive through a rainforest. A big thanks goes out to Justin's dad who rented the car for us, without him we wouldn't have seen anything!
-Cory